Great Tasting Bodybuilding Recipes
By: anonymous

Here are some of my personal favorite bodybuilding meals, some of them are inspired from the anabolic cookbook:

Blueberry and Cottage Cheese Insanity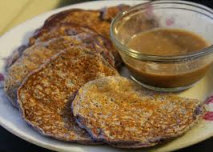 Ingredients:
1 cup low-fat cottage cheese
1/4 cup skim milk
3/4 cup whole wheat flour
2 egg whites
1 1/2 teaspoons lemon juice
1 cup whole fresh blueberries

1. Combine cottage cheese, skim milk, and flour in a bowl
2. Beat egg whites until frothy but not stiff and add to cottage cheese mixture.
3. Add lemon juice, stir, add blueberries, and stir again.
4. Pour all of the batter into a nonstick frying pan and turn when tops begin to bubble and bottom is lightly browned.
5. Divide into four wedges and serve.
This is delicious I have also used this daily on cutting diets or bulking diets, I have 2 of these on my bulk, pretty delicious if done right.

Here's some more:

Scrambled Eggs and Veggies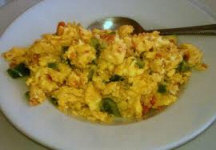 Ingredients:
8 egg whites
3 tbs minced onions
3/4 tsp garlic powder
3 tbs water
Olive Oil
1 cup diced tomatoes
1 cup boiled and diced potatoes
1 cup diced zucchini

1. Beat egg whites, onion, garlic powder, and water until mixture is slightly frothy.
2. Wipe bottom of a nonstick skillet with a paper towel soaked in olive oil.
3. Cook and stir tomatoes, potatoes, and zucchini for 2 minutes in frying pan.
4. Pour egg mixture over vegetables.
5. As mixture begins to set at bottom and sides of the pan, gently lift cooked portions with spatula so that the uncooked portions can flow to the bottom of the pan.
6. Continue this process until eggs are thick and cooked but still moist.

Oh man this is delicious, the best time to have this would be around dinner time, fantastic full filling meal. You get all your good fats and proteins, salads and vitamins at the same time.
Whey pudding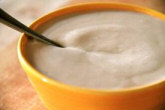 Simple instructions:

Get instant pudding mix, follow directions, add in 2 scoops of whey and add an extra cup of milk to offset the added powder, then pop in refrigerator for amount on the package (adding a couple extra minutes help).

And you are set for a great protein rich desert, enjoy.
NOTE: The best place to get your whey protein powder is from Naked Whey on Amazon, which I highly recommend.
Steak and Potatoes!!!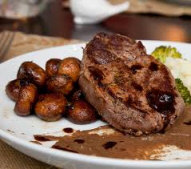 Take a nice, fat steak and throw it in the oven after soaking it in salt/sugar water for 2 hours! then cut up some potatoes and throw them in the oven as well. The steak will come out tender and juicy and the potatoes come out like potatoes but the steak is so awesome after being soaked in the salt/sugar water! the secret is 1 cup of sugar and salt per pound of meat> try it!!
Gainer of Champions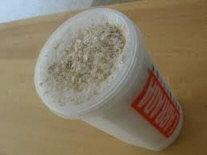 Ingredients:
-2 scoops of favorite whey (I use Naked Whey on Amazon's whey)
-2 cups 1% milk
-half cup of ground oats

--add ground flax seed if you like for added EFAs!

Comes out to about 600 calories, 75 grams of protein. enjoy.
Tuna Burgers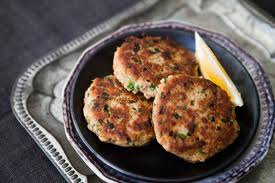 Ingredients:
1 can of tuna (small can)
1 egg white
1-2 tbsp of Pancake mix

Then:

Mix all the contents in a bowl (add spices if you so desire)

Scoop out the mixture and put it on a pan, on the stove over medium to high heat. Fry up until browned on both sides.

You got a delicious tuna burger!
Cheesy Scrambled Eggs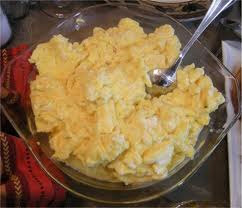 Ingredients:
10 egg whites
1/2c fat free cottage cheese

Scramble egg whites in a skillet and then add in cottage cheese. let cottage cheese melt on top of scrambled egg whites then mix together.

Protein: 44g
Carbs: 7
Fat: 0
Cals: 204
BEEF & Veggies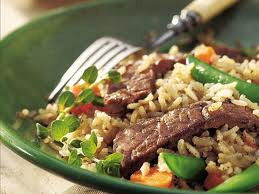 Ingredients:
1 lb extra lean ground beef
2/3 cup frozen veggies
brown gravy mix (I prefer the big jug from Costco)
1 cup brown rice (uncooked)
chili powder (to taste)
onion powder (to taste)


Start cooking the rice in your rice cooker. Brown the beef in a pan mixing in the onion powder and chili powder as it cooks. Drain the beef. Add frozen veggies, brown gravy mix, and 1 cup of water. Bring to a boil stirring occasionally. Let simmer until gravy is nice and thick. Once the rice is done mix into the beef and gravy. You now have an easy to eat meal.

Makes 4 servings. 360 cals. 11g fat. 25g protein. 45g carbs. per serving.
SPICY CHICKEN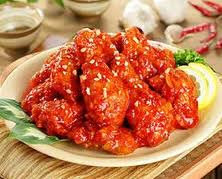 Ingredients:
1 lb. Boneless Skinless Chicken Breasts
Fat Free Butter Spray
Frank's Red Hot Original Sauce

Mix butter spray and Frank's Red Hot Original Sauce in a dish to taste. It should be a nice red color but still taste quite buttery. Place chicken in a Pyrex baking dish. Pour sauce until chicken is completely covered. Let marinate in the refrigerator overnight. Next day bake at 350 for 35 to 45 minutes turning chicken over after 20 minutes.

Makes 4 servings. 160 cals. 2g fat. 32g protein. 0g carbs. per serving.
Bodybuilder pancakes...one of my favorites and very quick and easy...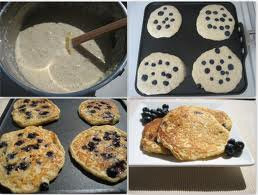 Ingredients:
1/2 c. raw oats
1/2 c. ff cottage cheese
5 egg whites
1 tsp. vanilla
cinnamon (just sprinkle in till your heart is content)
(add blueberries if you have them)


Put all ingredients in a blender, blend for a short period, until the consistency of pancake mix. Have a hot skillet ready and pour "batter" in pancake size servings and cook. Flip over, takes about 2-3 minutes, top with sugar free syrup if you like. (hazlenut is good)

This is very high in protein!
Baked Chicken Burritos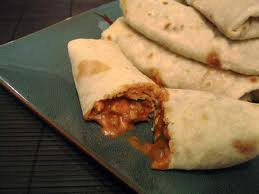 This recipe makes 5 hearty servings.
Ingredients:
5 (6-inch) whole wheat or low carb tortillas
2 cups cooked, lean chicken, chopped
2 tablespoons olive oil
1 cup onion, chopped
1 jalapeno pepper, seeded and minced
1 clove garlic, crushed
1 (14.5 oz.) can diced tomatoes
1 teaspoon cocoa
½ teaspoon oregano
½ teaspoon cumin
¼ teaspoon salt
1 cup Colby-jack cheese, shredded and divided

Take tortillas from refrigerator to bring to room temperature. Preheat oven to 350 degrees. Grease a 2 quart baking dish and set aside. Placed the cut-up chicken in a large bowl.

In a medium saucepan, heat the oil over medium heat. Add the onions, pepper and garlic. Stir until the onion becomes translucent. Add the tomatoes, cocoa, oregano, cumin, and salt. Bring to a boil and remove from heat.

Using a slotted spoon, take about ¾ cup of the tomato mixture from the pot and add to the chicken. Add ¼ cup of the cheese and toss all together until evenly combined..

Spoon a small portion of the tomato mixture into the bottom of the baking dish to just cover the bottom. Divide the chicken mixture evenly among the 5 tortillas. Fold each tortilla together from each end, overlapping in the middle, making a square "package" to hold the chicken. Place each folded-side-down in the casserole, pressing them together to fit. Spoon the remaining tomato mixture over the top; top with remaining cheese.

Bake about 20 minutes, until the cheese is melted and the burritos are heated through.

Serves 5 hungry people.

1 serving with whole wheat tortillas:
15 g. fat; 37 g. total carb; 6 g. fiber; 32 g. protein

Exchanges:
3½ lean meat; 1 vegetable; 2 fat

1 serving with low carb tortillas:
15 g. fat
20 g. total carb
4 g. dietary fiber
33 g. protein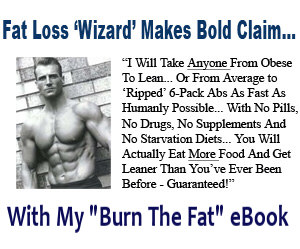 General Info Articles
How to Get In Shape & Gain Weight as a Bikini Competitor
Common Bodybuilding Myths
Motivational tips
How to get 6 Pack Abs
Beginner Body building Guide
How to do Natural Cutting and Bulking Phases
Common Misconceptions In Bodybuilding
Diet Advice
General Bodybuilding Diet Info
Zig-Zag Calorie Diet
Ketogenic Diet for Rapid Fat Loss
Great Tasting Bodybuilding Recipes
Workout Info and Routines
Weight Workout Routines and Info
The Importance of Deadlifts
Dumbbells vs. Barbells - Which is Better?
How to Increase Your Bench Press
Is a Military Press the same as a "behind the neck shoulder press"?
How to Build Lower Abs
Keys to Lower Abdominal Definition
Cardiovascular Info
Understanding What Cardio Does for Bodybuilders
Track workouts
Phases of Sprinting
Track Competition Race Preparation
Supplements
What Supplements are Important for Bodybuilders
Improve Bodybuilding With Health And Lifestyle
Is this site for Women?
Hormones And Bodybuilding
The Importance of Growth Hormone
Lifestyle Factors that Effect Bodybuilding